CSS ALBEMARLE (1864)
Service: 1864, North Carolina Sounds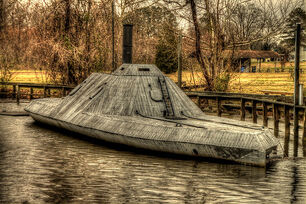 Home Port: Plymouth, North Carolina
Dimensions: 152' Length, 34' Beam, 9' Draft
Armor: 6" Iron, with wood backing.
Armament: 2x6.4" Brooke Rifles
Engines: Twin Screws
Speed: 4 knots
Built: Edward's Ferry, North Carolina
Commissioned: April, 1864
Crew: 50
Fate: Destroyed by Union Army raiders with spar torpedo, October 1864.
Summary
Albemarle was one of the Confederacy's most successful ironclads, and during her brief period of service altered the strategic balance of power in the North Carolina Sounds significantly.
Albemarle was the brainchild of Lieutenant Gilbert Elliot of North Carolina, who oversaw the construction and fitting out of the vessel, and provided the sketches for the design, which were refined by David Porter . Construction took place in a cornfield near the Roanoke river, at a place called Edward's Ferry, and proceeded relatively slowly, beginning in January, 1863. Early on, Union intelligence learned of the construction of the vessel, and an overland expedition to destroy the ship before she could be launched was proposed. The Union Army, however, deferred, believing that resources could not be shifted from more critical aspects of the war, and as a result, the construction of the vessel went on unmolested, even when Union forces were relatively close at hand.
Upon launch, Albemarle's Captain James W. Cook directed her toward the town of Plymouth, North Carolina, in a joint effort with the Confederate Army designed to subdue the Union forts in the area and allow a crossing by elements of the Army. The operation was a huge success - Albemarle destroyed one Union steamer, USS Southfield , and damaged another, USS Miami , in exchange for minimal damage, and Plymouth was taken.
A second engagement was fought on May 5th, with Albemarle joined by the steamer Bombshell as she escorted the troop ship Cotton Plant down the Roanoke River. Albemarle and her charge were intercepted by four US warships including Mattabesett , Miami, Sassacus , and Wyalusing , as she moved down the Roanoke. The engagement here was ferocious. Albemarle was struck nearly one hundred times, rammed, and attacked with spar torpedo. Despite significant cosmetic damage, and the sinking of Bombshell, however, the troop ship escaped, and Albemarle sailed up the Roanoke, victorious.
Engagements such as this became a significant impediment to Union operations in the Carolinas, such that the Union Army began to seriously consider operations to disable, destroy, or capture Albemarle. Eventually, Lieutenant William B. Cushing led a daring overland raid to destroy the Albermarle, penetrating the inner defenses of the dock where she sheltered with a small launch, and attacked her with a spar torpedo. The Albemarle was sunk at her moorings.
Later that year, the wreck was raised and repaired with the intention of use by the Union fleet. However, the ship never left the ordinary and was eventually stricken from the record and sold for scrap.