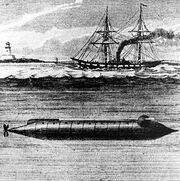 USS Alligator (1862)
Built: Philadelphia, Pennsylvania
Commissioned: June 13, 1862
Service: Atlantic Blockade Squadron, 1862-1863
Home Port: Washington Navy Yard, Washington D.C.
Dimensions: 47' Length, 4"6' Beam, 6' Draft
Armor: None
Armament: 2 Explosive Mines
Engines: 16 x Hand-Cranked Oars, 1862; Hand-Cranked Propeller, 1862.
Speed: 2 Knots, 1862; 4 Knots, 1863.
Crew: 12
Fate: Sank, April 2nd, 1863.
Summary
The first true submarine actually known to have been commissioned into the US Navy, Alligator was an experimental warship developed with the intent of use against the numerous Confederate ironclad projects being developed at the beginning of the war, in particular CSS Virginia, which were seen as serious threats to the wooden vessels of the Atlantic Blockade Squadron. The theory of deployment called upon the Alligator to slip into Confederate controlled harbors undetected and sink Ironclads using explosive mines attached from below (not unlike the experimental Turtle used by the Colonists during the American Revolution, albeit with much larger charges.) These weapons are sometimes referred to as early precursors to modern Limpet Mines.
When designed, Alligator was propelled by hand cranked oars. However, the Washington Naval Yard refitted her in 1863 with a hand-cranked propeller system, which greatly improved her efficiency.
Initially, Alligator was deployed for operations in support of McClellan's Peninsular Campaign of 1862. Projects proposed included the destruction of bridges and obstructions, and the use of the Alligator to destroy Virginia II, then under construction, if the vessel were sent down the James to attack the flank of McClellan's forces. These operations were eventually vetoed when senior Naval officers on hand reported that the inland waterways intended for Alligator's transit were too shallow to be useful, and for fear that the capture of Alligator by Confederate forces might seriously threaten other Union warships in the area. As a result, the vessel was recalled to Washington Naval Yard for her propulsion refit, and remained there until March, 1862, when she was ordered into service to support the planned Union attack on Charleston, South Carolina.
On April 2nd, 1863, Alligator was being towed in transit to Port Royal South Carolina by USS Sumpter. During the trip, Sumpter ran into heavy swells, endangering the larger vessel. The decision was made to cut her tow line, at which time Alligator promptly drifted for a few moments and then sank to the bottom. Fortunately, no lives were lost. She had never been successfully used against an enemy vessel. Efforts to locate and save the vessel, believed to be intact, are active in the present day.