CSS BALTIC (1862)
Built: Selma, Alabama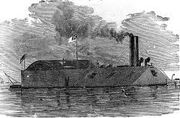 Commissioned: August, 1862
Service: 1862-1864, Mobile Squadron
Home Port: Mobile, Alabama
Dimensions: 186' Length, 38' Beam, 6' Draft
Armor: 4" Iron, with wood backing.
Armament: 4 x Rifles (probably 6.4" Brooke Rifles)
Engines: Dual Side Paddlewheels
Speed: 6 knots
Crew: approximately 150
Fate: Decommissioned, 1864. Later captured by Union forces and sold at auction.
Summary
CSS Baltic was Mobile Bay's only defensive ironclad until 1863. She was converted from a powerful sidewheel steam tug.
Baltic was an impressive looking ship, but her universal reputation throughout a long career was very poor. She had a bad tendency to take on water, and problems were exacerbated by a strange decision on the part of her original builders to stop all protection precisely at the waterline. Her wooden hull below was riddled with shipworm and prone to rotting, and most considered her an unlucky ship. Despite this, Baltic served alone for two years, and remained on duty as a guardship after being formally decommissioned in early 1864. In the summer of that year, some or all of her armor plate (sources aren't clear) was taken from the hull and used to complete CSS Nashville, since no other protection was available. While the timetable for this transfer of material is, once again, unclear, the ship played no active role in the defense of Mobile from August onward.
At some point, what was presumably a now much denuded vessel was anchored in a nearby waterway, and captured by Union forces at some point during the landward attack toward Mobile in 1865, with this remnant then sold at auction.