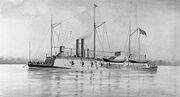 USS BENTON (1861)
Built: St. Louis, Missouri
Commissioned: February 24, 1862
Service: 1861-1862 Western Gunboat Flotilla, 1862-1865 Mississippi River Squadron
Home Port: Cairo, Illinois
Dimensions: 202' Length, 72' Beam, 9' Draft
Armor: 2.5" iron casemate, 2.5" iron pilothouse
Armament: February, 1862 - 2x9" Smoothebores, 7x42lb Rifles, 7x32lb Rifles. August, 1862 - 2 x 9" Smoothebores, 4x42lb Rifles, 8x32lb Rifles, 2x50lb Rifles, 1x12lb Howitzer. January, 1863 - 4x9" Smoothebores, 6x32lb Rifles, 4x42lb Rifles, 2x50lb Rifles, 1x12lb Howitzer. August, 1863 - 8x9" Smoothebores, 4x32lb Rifles, 2x50lb Rifles, 2x100lb Rifles, 1x12lb Howitzer.
Engines: Stern Paddlewheel
Speed: 5.5 Knots
Crew: 176
Fate: Decommissioned and sold into civilian service, 1865.
Summary
USS Benton began life as heavy catamaran "snag" ship known as Submarine No.7 'designed and built by James B. Eads. Her role was to remove obstructions from major waterways. At the start of the war, Eads suggested that she would make an excellent basis for conversion to a riverine warship. During conversion, her twin hulls were planked together and equipped with redundant watertight holds, which Eads proposed would make her virtually invincible. Though the ship was initially criticized by William D. Porter for being "too slow", Eads famously replied that Benton would be "fast enough to fight in." For most of the war, she was among the heaviest and best protected ironclads in the Union riverine fleet and, consequently, she spent most of her career as a flagship, first for the Western Gunboat Flotilla and later, as part of the Mississippi River Squadron.
Benton saw heavy action throughout the war. She was involved in the Battle of Plum Point and theBattle of Memphis, where she dealt significant damage to the Confederate River Defense Fleet. Later in 1862, she lead an expedition to hunt and destroy CSS Arkansas which lead to a disastrous failure, forcing the retreat of the Mississippi River Squadron for the rest of the year. In 1863, Benton ran the guns at Vicksburg, and fought in the Battle of Grand Gulf. In 1864, she took part in the failed Red River Campaign. Finally, in 1865, Benton steamed up the Red River again to take the surrender of the Confederacy's last remaining ironclad, CSS Missouri.
As a warship, Benton was well protected and, through struck hundreds of times by gunfire from enemy warships and shore installations, she rarely suffered significant damage. She was a successful design and was often regarded as "indestructible" by contemporaries, though her armor protection was actually quite light compared to that of comparable ocean going vessels.
In July, 1865, Benton was stripped of her armor and armament, decommissioned, and eventually sold into civilian service.