We're Getting Mutants in the MCU - The Loop
Play Sound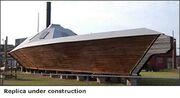 CSS NEUSE (1864)
Built: Whitehall (Seven Springs), North Carolina
Commissioned: April, 1864
Service: 1864, North Carolina
Home Port: Kinston, North Carolina
Dimensions: 140' Length, 34' Beam, 9' Draft
Armor: Approximately 6" iron, with wood backing.
Armament: 2x6.4" Brooke Rifles
Engines: Single Screw
Speed: 4 knots
Crew: 50
Fate: Ran aground, 1864; refloated and brought into serviceable condition again. Burned to prevent capture March 9, 1865. Remains raised in the 1960s, and are now seriously threatened. She has badly deteriorated over time.
Summary
Neuse was sister ship of the famous Albemarle, and designed for many of the same reasons: to provide a light draft, powerful vessel capable of disrupting Union operations on North Carolina's Coast and her many inland river inlets. Like Albemarle, she was built on a riverbank in a cleared field, in this case across the river from the town of Whitehall (now Seven Springs) North Carolina. She was very similar to Albemarle, but was approximately twelve feet shorter.
Neuse only achieved one operational sortie - in October, 1864, she sailed down the Neuse River in order to assist with a Confederate operation against Union occupied New Bern. Unfortunately, she ran aground not far from her home port of Kinston, and was damaged in the process. The grounded vessel was refloated and brought back to Kinston for repair. The timeline at this point becomes murky, and it is unclear at what point repairs were completed, only that this had, in fact, taken place by 1865. Aside from a defensive role near Kinston, however, Neuse never again saw active service - planned future operations were cut short by Union advances toward Kinston, at which point the ship was destroyed to prevent her capture.
She was located and raised in the 1960s, using a relatively primative process that resulted in the collapse of much of her remaining hull. Those elements of the wreck that survived were placed on display in an outside pavilion, which was never fully protected from the elements. As flood waters and hurricane season took their toll on the Neuse, efforts were made to relocate, preserve, and possibly restore the wreck. However, these have stalled as of 2011.
Neuse has the distinction of being the only surface vessel from the American Civil War to have been completely rebuilt in replica form at 1:1 scale. Engines have been installed, but it is unclear whether Neuse II has actually entered the war.