We're Getting Mutants in the MCU - The Loop
Play Sound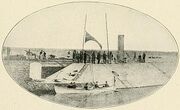 CSS CHICORA (1862)
Built: Charleston, South Carolina
Commissioned: November, 1862
Service: Charleston Squadron, 1862-1865
Home Port: Charleston, South Carolina
Dimensions: 172' 6" Length, 32' Beam, 12' Draft
Armor: 4" iron with wood backing
Armament: 2x9" Smoothebores, 4x6.4" Brooke Rifles
Engines: Single Screw
Speed: 6 knots
Crew: 180
Fate: Burned to prevent capture, February 18th 1865.
Summary
Chicora was the second Richmond class ironclad to be completed at Charleston. She was built to the standard Richmond class plans, but contemporary accounts indicate that she had a slightly shorter casemate. Like the majority of the Charleston Squadron, Chicora spent her entire career operating as part of the coordinated defense of the capital city of South Carolina, often regarded as the "birthplace of secession" and a significant target for Union naval operations.
Chicora had an active career during the war, and like most ironclads constructed for the CSN, spent her war serving as everything from armored troop transport to anti-blockade operations. Her most significant action occurred on January 31st, 1862, when Chicora and her sister ship CSS Palmetto State engaged the nearby Union blockade in the early morning hours. The attack was a great success, throwing the Union ships into confusion and significantly damaging several vessels. Chicora harassed most of the ships at long range, directed her attention on USS Keystone State in support of Palmetto State, and then ran the blockade back home, emerging victorious to the safety of the inner harbor. The action was a significant moral victory for the Confederate Navy, and was meant to indicate that the Union could not operate with impunity in Confederate waters.
During the Union Bombardment of Fort Sumter, Chicora harassed the Union ironclads from long range, but generally avoided direct confrontation and allowed the heavier guns defending Charleston's fortifications to do their work. Later, Chicora helped cover the salvage of armament taken from the wreck of USS Keokuk.
In February, 1865, Chicora was burned with most of the rest of the Charleston Squadron to prevent capture by advancing Union forces.
We have some indication that for at least a brief period of time, some of the vessels in the Charleston Squadron, probably to include Chicora and Palmetto State, were painted Robin's Egg Blue (!)