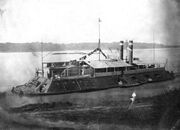 USS CINCINNATI (1862)
Built: Mound City, Illinois
Commissioned: January 16, 1862
Service: 1862 Western Gunboat Flotilla, 1862-1865 Mississippi River Fleets
Home Port: Cairo, Illinois
Dimensions: 175' Length, 51' 2" Beam, 6' Draft
Armor: 2.5" iron Casemate, 1.25" iron Pilothouse
Armament: 6x32lb smoothebores, 3x8" Smoothebores, 4x42lb Rifles, 1x12lb Howitzer
Engines: Stern Paddlewheel
Speed: 4 Knots
Crew: 251
Fate: Decomissioned, 1865. Sold, 1866.
Summary
Cincinnati was one of the City class riverine ironclads, or "Pook Turtles" designed by James B. Eads and Samuel Pook. She was similar to the other City class ships in many respects, though she may have been slightly slower. She was the first of several American warships to carry her name.
Cincinnati was heavily engaged throughout the war. At Plum Point, she was rammed, heavily damaged, and sank in shallow water. She was raised and repaired, but did not return to service until late in 1862. She later saw action at Port Arkansas, the White River, and on the Yazoo (1863), before engaging the batteries at Vicksburg in May, 1863, when she was sunk a second time. Cincinnati's gallant crew earned eight medals of honor during this last action. Raised again late in the year, Cincinnati then patrolled the Western Mississipi until February, 1865, when she joined the West Gulf Blockading Squadron, seeing some oceanic and coastal deployment.
Cincinnati was decommissioned in 1865 at Algiers, Louisiana, and sold at auction in 1866.