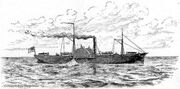 CSS GAINES (1862)
Built: Mobile, Alabama
Commissioned: Early 1862
Service: Mobile, Alabama, 1862-1864
Home Port: Mobile, Alabama
Dimensions: 202' Length, 38' Beam, 6' Draft
Armor: Partially protected with 2" iron.
Armament: 1x8" Rifle, 5x32lb Smoothebores
Engines: Dual Side Paddlewheels
Speed: 10 Knots
Crew: 130
Fate: Heavily damaged at Mobile Bay, August 5 1864. Sank shortly thereafter.
Summary
CSS Gaines was hastily built for local defense at Mobile, Alabama, between 1861 and 1862. A fast, dual paddle wheeled steamer she was well armed, but suffered from a weak hull as a result of being built with unseasoned wood. Partly as protection, and partly to compensate for this defect, she was partly clad in 2" iron.
She served her career in the defense of Mobile, and with CSS Selma, was one of only two wooden ships capable of operating in lower Mobile Bay as the Union fleet approached in the Summer of 1864. Like Selma, she suffered significantly from desertion for much of the latter half of the war.
She served heroically in the Battle of Mobile Bay, escorting CSS Tennessee II, and was heavily savaged by the superior Union force confonted there. Although she managed to limp away from the battle, Gaines sank shortly thereafter. Most of her crew managed to escape to Mobile, but some were killed. A few wounded were captured by Union forces.