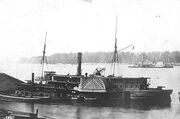 CSS GENERAL BRAGG (1862)
Built: New York City, New York
Commissioned: January, 1862
Service: River Defense Fleet, 1862
Home Port: Memphis, Tennessee
Dimensions: 208' Length, 32' 8" Beam, 12' Draft
Armor: Cottonclad
Armament: 32lb Smoothebore, 30lb Smoothebore; see notes below for further information.
Engines: Dual Paddlewheel
Speed: 10 Knots
Crew: Unknown
Fate: Run aground and captured at the Battle of Memphis in June, 1862. Later entered US service as USS General Bragg.
Summary
Mexico was a fast civilian paddle steamer built in New York City. In 1862, she was acquired by the Confederate States Navy and equipped as a cottonclad ram, renamed CSS General Bragg, for US Mexican War celebrity turned traitor/Confederate officer, Braxton Bragg. She was the largest, fastest, and heaviest ship in the River Defense Fleet, and a valuable asset in the Confederacy's war effort on the Upper Mississippi. Like most of the ships in the River Defense Fleet, she was fitted with a ram bow.
General Bragg spent her career with the River Defense Fleet. Like all of the ships in that fleet, she was most heavily engaged in two famous battles, first at the Battle of Plum Point, in May, and second, at the Battle of Memphis in June. At Plum Point, General Bragg rammed the ironclad Cincinnati amidships, significantly damaging her opponent, but the Union ironclad was able to respond with a point blank broadside that forced General Bragg to back away, throwing her crew into disarray, and essentially took her out of the fight. However, fighting spirit remained high, morale and control was restored, and the General Bragg withdrew safely with the rest of the victorious Confederate fleet.
At Memphis, Bragg was not so lucky. As the largest target in the fleet, she was heavily targetted by the ships of the Western Gunboat Flotilla and eventually forced aground, where she was captured more or less intact, but heavily damaged, by Union forces. Thereafter, she served out the war as USS General Bragg.
As of the time of this update, a source has come to light claiming that all ships of the River Defense Fleet present at the Battle of Plum Point were equipped with "at least four eight inch guns." If this is true, the guns would likely have been 8" Smoothebores, very common weapons in use on the Mississippi.