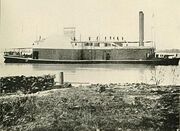 CSS GENERAL STERLING PRICE (1861)
Built: Cincinnati, Ohio
Commissioned: 1861
Service: River Defense Fleet, 1862
Home Port: Memphis, Tennessee
Dimensions: 182' Length, 30' Beam, 9' 2" Draft
Armor: Cottonclad
Armament: 4x9" Smoothebores
Engines: Dual Paddlewheel
Speed: Unknown; estimated 9-10 Knots
Crew: Unknown
Fate: Accidentally rammed by CSS General Bragg at Battle of Memphis in June, 1862, then collided with USS Queen of The West (may or may not have been an intentional ram by QoW.) Crew taken captive, ship sank on top of sandbar. Later raised, repaired, and entered service as USS General Price.

Summary
Originally known as Laurent Millaudon, she was acquired by the CSN some time in late 1861, fitted with a ram and armament, and commissioned as CSS General Sterling Price. She served her career with the CSN in the River Defense Fleet, and was among the most heavily armed wooden gunboats on either side during the Mississippi Campaign of 1862.
General Sterling Price was present at the Battle of Plum Point, where she dealt severe damage to the ironclad USS Cincinnati, taking away her rudder and a large section of her sturn in a ramming attack. Almost simultaneously, her gunnery crew fired a punishing barrage into Mortar Boat No.16, effectively silencing that ship. In return, she received heavy close range fire from the Cincinnati, including a burst boiler which scalded much of her crew. Nevertheless, she was able to withdraw safely with the rest of the River Defense Fleet, and was repaired in a timely fashion.
At the Battle of Memphis, she was, bizzarely, a victim of some of the same damage she had inflicted on the Cincinnati, this time caused by an accidental high speed ram on the part of CSS General Bragg, the largest ship in the River Defense Fleet, which carried away a large portion of the stern section of General Sterling Price. The damage sent the Sterling Price sliding out of control, and she soon collided with USS Queen of the West, though it's unclear from reports whether this was merely a fortunate result for the Queen or the result of another ramming attack. The wreck then sank atop a sandbar in relatively shallow water, and her crew was captured by the crew of the Queen of the West. She was later raised by the Union and recommissioned USS General Price.