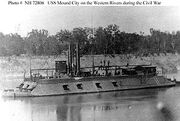 USS MOUND CITY (1862)
Built: Mound City, Illinois
Commissioned: January 16, 1862
Service: 1862 Western Gunboat Flotilla, 1862-1865 Mississippi River Fleets
Home Port: Cairo, Illinois
Dimensions: 175' Length, 51' Beam, 6' Draft
Armor: 2.5" iron Casemate, 1.25" iron Pilothouse
Armament: January 1862 - 3x8" Smoothebores, 6x32lb Rifles, 4x42lb Rifles,1x12lb Rifle, Summer 1863 - 3x8" Smoothebores, 1x50lb Rifle, 2x42lb Rifles, 6x432lb Rifles, 1x30lb Rifle, 1x12lb Rifles, 1864 - 4x9" Smoothebores, 3x8" Smoothebores, 1x100lb Rifle, 1x50lb Rifle, 3x32lb Rifles, 1x30lb Rifles, 1x12lb Rifle.
Engines: Stern Paddlewheel
Speed: 4 Knots
Crew: 251
Fate: Decomissioned and sold in the Summer of 1865.
Summary
Mound City was one of the City class riverine ironclads, or "Pook Turtles" designed by James B. Eads and Samuel Pook. In most respects, she was built to the standard City class designs. Mound City was named for the river port of Mound City, Illinois, where many ships in her class were built. Mound City varied in that she was deemed "too heavy by the stern" upon inspection by the US Army. Because of the objections of Captain Andrew H. Foote, then in command of the Western Gunboat Flotilla. Under his direction, Mound city's stern armor was reduced, which lightened her in the water but also, as a consequence, made her particularly rear astern, and in the region of her paddle wheel, more so than the other vessels in her class.
Mound City saw action throughout the war, most notably at Island No. 10 and the Battle of Plum Point, where she was rammed by CSS General Earl Van Dorn, which essentially ripped off her bow and caused her to sink in shallow water. She was later raised, and went from action to action with the Mississippi River Fleet, to include the Battle of Grand Gulf and the disastrous Red River Expedition. When the war was over, most ships in her class were rapidly demobilized, and Mound City was among the first to be stripped of armor and armament and sold to business interests. Her exact fate after this point is not well documented.