We're Getting Mutants in the MCU - The Loop
Play Sound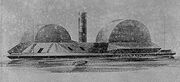 CSS NASHVILLE (1863)
Built: Montgomery, Alabama
Commissioned: March 18, 1864
Service: Mobile Squadron, 1864-1865
Home Port: Mobile, Alabama
Dimensions: 270' Length, 62' Beam, 13' Draft
Armor: 6" iron with wood backing; 2" iron with wood backing over wheels.
Armament: 3x7" Brooke Rifles, 1x24lb Howitzer
Engines: Dual Side Paddlewheels
Speed: 5 Knots
Crew: 130
Fate: Surrendered May, 1865, to Union forces. Iron sheeting removed for use in other projects; sold to breakers 1867.

Summary
CSS Nashville was a large, impressive looking sidewheel ironclad constructed at Montgomery, Alabama. She was quickly commissioned in March, 1864, and then sent to Mobile Bay. Her condition was found to be incomplete, and a number of new additions necessitated a long fitting out process. Because of a shortage of necessary material, some of her armor plating was taken from the recently decomissioned Baltic in July, and the process was still taking place during the Battle of Mobile Bay, preventing either ship from participating in the engagement. In retrospect, this may have played a significant role in the Confederate defeat there.
It now appears that Nashville was intended to be one of several similarly constructed large ironclads, taking advantage of the surplus of paddle steamers in the lower south, and designed for harbor and river defense. It appears that she was the only ship of her class to be completed, however.
While large and, in the eyes of many, strikingly beautiful, the design was notably deficient. Nashville's engines were weak, her armament inadequate for a vessel of her size, and the armor protection over her wheels notably poor. Nevertheless, she had an active career and took part in the subsequent defense of Mobile, and Spanish Fort Alabama. When Mobile fell in April, 1865 Nashville retreated up the Tombigbee River, and remained active there until May 10th, when she was formally surrendered to the US Navy along with the remanining ship's of the CSN's Mobile Squadron. She was purchased by the Department of the Navy, and eventually sold at auction in 1867.