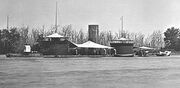 USS ONONDAGA (1864)
Built: Greenpoint, New York
Commissioned: March 24, 1864
Service: James River Flotilla
Home Port: New York City, New York
Dimensions: 226' Length, 49'3" Beam, 1210" Draft
Armor: 11.75" iron Turrets and Pilothouses, 5.5" iron Hull, 1" iron Deck
Armament: 2x8" Rifles in Fore Turret, 2x15" Smoothebores in Aft Turret
Engines: Single Screw
Speed: 7 Knots
Crew: 130
Fate: Resold to France, 1867
Summary
Onondaga was a unique, twin turreted monitor laid down in 1863 and completed in early 1864. Although smaller than other twin turreted monitors in US service, she was stronger and more solidly built owing to the fact that she was constructed entirely of iron, rather than with the standard practice of iron sheeting over a wood frame. In addition, her combination of 8" Rifles and 15" Smoothebores was singularly powerful, and made her the most effective vessel in the Union's James River Flotilla, where Onandaga spent the entirety of her war.
Most of Onondaga's engagements included long range duels with Confederate ironclads and the dangerous, if somewhat less than glamorous, work, of fighting Confederate shore batteries, fortresses, and installations. Her most famous moment, however occured during the Battle of Trent's Reach in 1865. Here, supported only by the torpedo boat Spuyten Duyvil and a handful of wooden ships, Onondaga single handedly drove back an attack by the entire James River Squadron, decisively deciding the engagement with twin penetrations of the hull of Virginia II which so stunned the Confederate forces that they were forced to withdraw.
Thereafter, Onondaga served out the rest of the war in support of operations against Richmond. After the war, Onondaga was laid up at Philadelphia, and eventually sold to France, in whose service she remained for several decades under the same name before being scrapped in 1904.