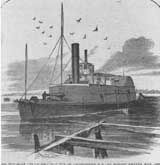 CSS PLANTER (1860)
Built: Charleston, South Carolina
Commissioned: Unknown
Service: 1860-1862, Charleston
Home Port: Charleston, South Carolina
Dimensions: 147' Length, 40' Beam, 3'9" Draft
Armor: None
Armament: 1x32lb Smoothebore,1x24lb Howitzer
Engines: Rear Paddlewheel
Speed: Unknown
Crew: Unknown
Fate: Surrendered by her Pilot, Robert Smalls, to Union Forces in 1862. Thereafter served as USS Planter.
Summary
CSS Planter was a fast steamer acquired by the Confederacy early on for use as an armed dispatch boat and transport. Her date of commissioning is unclear - she may have initially been taken into the service of South Carolina shortly after secession.
By 1862, Planter was serving as a dispatch boat and transport attached to the Confederate Army Department of Engineers at Charleston, South Carolina. It was during this service that Planter became famous, thanks to the heroic efforts of her pilot, Robert Smalls.
Robert Smalls was a local South Carolina slave who was employed as the ship's harbor pilot at Charleston. Around 4:00 on May 13th, 1862, when her captain was absent and the ship was docked, Smalls untied her from the dock, raised a head of steam, and sailed past the succession of Confederate fortresses and gun emplacements guarding Charleston, with Planter's CSN colors flying. Despite the incredible risk, none of the fotrresses or emplacements seem to have challenged the ship, believing she was being dispatched on another mission. After his carefully calculated route had taken Planter out of the range of the last Confederate gun, Robert Smalls immediately hauled down the Confederate colors and raised a white flag of surrender. The ship was approached and taken into the possession of the US Navy by blockade clipper USS Onward. The next day, Planter and her cargo were taken to Flag Officer Dupont at Port Royal, South Carolina.
Here, it was discovered that Smalls had smuggled himself, the ship, four cannon, and a crew of slaves (seven crewmen, five women, and three children), to safety in the USN. The act was incredibly audacious, and gained the admiration of the world, with the story repeated in newspapers worldwide. It helped to reemphasize that slavery, and the struggle for or against its expansion, was core to the causes of the American Civil War and helped to lend moral legitimacy to the Union cause. For their heroism, Smalls and the crew were awarded the standard privateering reward of the era: half the value of the ship, plus cargo of artillery. Smalls and the slaves were granted their freedom. Smalls continued to serve as pilot for Planter during her service in the USN.