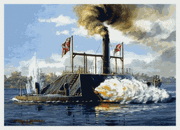 CSS SAVANNAH (1863)
Built: Savannah, Georgia
Commissioned: June 30, 1863
Service: Savannah Squadron, 1863-1864
Home Port: Savannah, Georgia
Dimensions: 172' 6" Length, 32' Beam, 12' Draft
Armor: 4" iron with wood backing.
Armament: 2x7" Brooke Rifles, 1x10" Smoothebores, 2x6.4" Brooke Rifles
Engines: Single Screw
Speed: 6 knots
Crew: 180
Fate: Scuttled and Burned, December 21st 1864.

Summary
CSS Savannah was a Richmond class ironclad built at Savannah, Georgia from 1862. She was highly regarded as one of the best and most professional vessels in the CSN, and was often classed as the ablest and most effective ship in the Savannah Squadron. Nominally the squadron's flagship, Savannah had an active service life in the defense of her home port, and was based with the rest of the squadron in the nearby river of the same name.
When the city was evacuated in December, the order was given to burn and scuttle the ships of the squadron, including Savannah. Her loss was a considerable blow to the CSN.