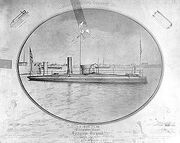 USS SPUYTEN DUYVIL (1864)
Built: Mystic, Connecticut
Commissioned: October, 1864
Service: James River Flotilla
Home Port: Norfolk, Virginia
Dimensions: 84' 2" Length, 20' 2" Beam, 7' 6" Draft.
Armor: 5" Pilothouse; 5" Hull; 3" Deck. Iron with wood backing.
Armament: Reloadable Spar Torpedo
Engines: Single Screw
Speed: 5 Knots
Crew: 23
Fate: Decomissioned, 1866. Sold and Scrapped, 1880.
Summary
Spuyten Duyvil was an experimental torpedo boat designed by Captain William W. Wood, with the Navy contracting for her construction in June, 1864. Originally built as USS Stromboli, she was soon rennamed for the Spuyten Duyvil section of New York City.
The ship was an experimental boat in that she was intended as a means of providing multiple torpedo attacks at enemy vessels and river obstructions. Although the precise mechanisms involved are still debated, the concept essentially revolved around a retractable spar onto which a torpedo was mounted. The spar would be extended via a pair of doors located just at or beneath the water line, with a torpedo mounted; once the torpedo had been expended, the spar would be retracted and the doors closed, with a new torpedo fitted. This was quite an innovation at the time, since spar torpedoes were were otherwise "one shot" weapons, with no realistic means of reloading whilst in action.
Whatever the case, her use against enemy warships was minimal; the most significant military action for Spuyten Duyvil occurred at the Battle of Trent's Reach in 1865, during which time she supported USS Onondaga against the Confederate James River Squadron. For most of her career, however, she used her unique armament to help clear away Confederate river obstructions. The Navy was not terribly impressed with the concept, but apparently thought enough of her to keep her in service for a full year after the end of hostilities. European observers were fascinated with her, however, and believed that she might herald a new type of naval warfare. She was technically decommissioned and placed in reserve shortly after the end of the war, but actually had a very active life as a test ship, being frequently fitted with various experimental weapons systems over the course of her post-war career. Spuyten Duyvil was finally scrapped and disposed of in 1880.